In Memory
Patrick Helvie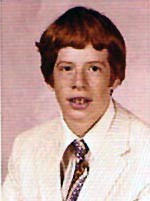 Patrick Alan Helvie passed away Tuesday, August 7, 2007 at the St. John Medical Center in Tulsa, Oklahoma at the age of forty-six years.
Patrick was born on March 22, 1961 in Wichita, Kansas. He was the son of Henry E. Helvie and Judith Ann Potter Helvie. Patrick moved to the Tulsa area at the age of four where he was reared by his mother and step-father, Lee E. Billings, Sr. He attended high school at Edison High and then spent his last two years at Wentworth Military Acadamy in Lexington, Missouri where he graduated in 1979. During this time, Patrick was extremely active in the Boy Scouts of America and fulfilled the requirements in the area of leadership, service, and outdoor skills to achieve the status of Eagle Scout.
Upon graduation from Wentworth, Patrick attended Oklahoma State University. He then attneded and graduated from the Climate Control Institute of Tulsa, receiving training in testing, serving and maintaining a wide range of climate control equipment. Upon successful completion fo the program, Patrick was certified as a third class engineer in heating, ventilating and air conditioning (HVAC). Patrick was employed as a HVAC licensed technician and third class engineer for many years and was currently employed by Westwind Enterprises.
Patrick was a devoted husband and father. He enjoyed camping and boating with his family. He loved the Lord with a whoile heart and attended Westport Baptist Church with his family. He will be missed by all of his family and friends, but it is a comfort to them to have the assurance that he is with his Lord and Savior, Jesus Christ today.
Patrick is survived by his wife Priscilla Helvie of the home; mother Judith Ann Billings, Holiday Island, Arkansas; father Henry E. Helvie of Waterbury, Connecticut, six children, Erica Belle Marie Helvie of Broken Arrow, Oklahoma, Jack Roy Helvie of the home, Sarah Naomi Davison of the home, Rachel Anne Davison of the home, Rebecca Marie Stith of Broken Arrow, Oklahoma, Staff Sergeant Joshua Saul and Chrystal Davison of Lakewood, Washington; two brothers Andrew Robert Helvie, Holiday Island, Arkansas and Lee Eugene Billings, Jr. of Tulsa, Oklahoma; and two grandchildren, Caitlynn Nicole Davison and Ethan Alexander Davison, both of Lakewood, Washington. He is also survived by his aunt, Barbara Potter of Bartlesville, and numerous other nieces, nephews and cousins. He was preceded in death by his stepfather, Lee E. Billings, Sr.