In Memory
Kathy Makela (Beeman)

Kathy Makela Beeman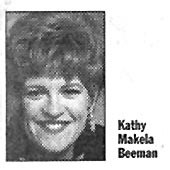 Kathy departed this life on July 12, 2003. She was born January 22, 1961 in Red Lodge, MT to Gene and Emily Makela. Kathy graduated from Edison High School in Tulsa in 1979 and earned her Nursing degree at the University of Tulsa where she was a member of the Phi Mu Sorority.
Kathy served in the Air Force and was stationed at the Air Force Acadmey in Colorado Springs. She dedicated her life to helping others as a career. She was especially proud of having been an LPN Instructor at Tulsa Tech for much of her career.
Kathy married Scott Beeman on July 22, 1989. Scott's children, Cody, age 20 and Calen, age 17 became "their" children. Together Scott and Kathy had 2 wonderful children, Ryan, age 11 and Emily, age 8 who were the center of her very existence.
A high school trek to Philmont Boy Scout Ranch cemented her love of the outdoors and led to her service as a Ranger at Philmont for several years and her recent service on the Philmonth Staff Association.
Kathy's love of beauty in all forms, music, laughter and sense of fun graced the lives of all who have known her.
She is survived by her husband Scott; her children, Cody, Calen, Ryan and Emily; parents Gene and Emily Makela; mother and father-in-law, Emmett and Shirley Beeman; sister, Ann Makela Schneider (Kelly); brother, Matt Makela (Michelle); and her nieces and nephews, Maredith and Alex Schneider, Jason and Hannah Makela.
Service at Floral Haven, July 15, 2003 at 12:30 p.m.